About

Artist Richard Haynes, Jr.
Richard Haynes, Jr. is a talented artist who is originally from Charleston, SC, and currently resides with his family in Portsmouth, NH. Richard served for four years in the United States Air Force during the Vietnam era as a Dental Technician. He was later educated in New York, where he received an MFA from Pratt Institute in 1979.
He started his career working for CBS Publishing from 1979 to 1986. Following this, he ran his own company, Haynes Images, from 1986 to 2005. He was also an adjunct professor at McIntosh College, a faculty member at UNH for their McNair Graduate Opportunity Program, an art instructor at the Currier Museum, an art teacher at East Side House Settlement, a videographer instructor at the South Bronx Community Action Theater, and a visual illiteracy teaching assistant at PS6/Model Cites Program in New York. Currently, Richard is the Associate Director of Admissions for Diversity at the University of New Hampshire. To learn more about Artist Richard Haynes, Jr. or his artwork,
reach out to his office.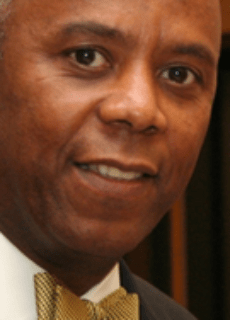 Author Dennis Robinson:
"Richard's works of art are part memory of his subject, part nostalgia, part hope - one man's reprocessing of a topic; shape, and color, into something else all together. He begins, simply with the scenes and citizens that capture his eye. Like Walt Whitman, he celebrates what it means to be an American in an era of great National transformation. Like Whitman, he tells our stories, not with words, but using shape and hues, in a style that is both instantly familiar and surprisingly new."
Portsmouth Herald:
"Haynes' aesthetic approach directly mirrors Jacob Lawrence's use of flat bold shapes and color, Gwathmey's thorough and concise visual expression of his subject matter, and Orozco/Rivera's ability to peel back the layers so that we can clearly see through the cultural illusion of racism and find the true reality of it."
The Concord Monitor
dubbed him the "Crayon Master" for his use with oil waxed-based crayons. In his work, Haynes both calls attention to and breaks racial stereotypes.
University of New Hampshire Students:
"Empowering, Moving, Charismatic, Inspiring, Caring, Ambitious, Compassionate, One-of-a-Kind, Motivating, Dedicated, a Patient Guider, Loving, Passionate, Unyielding to the pressure of Challenge, Enthusiastic, Courageous, Expressive, Driven, Spiritual, Painfully Honest, Fervent, and an Amazing individual to know."
Chronicle WMUR-TV Jennifer Crompton:
"Artist Richard Haynes settled in New Hampshire following a journey he describes as "an African American looking for a better way." Since then Haynes has not only worked with students at UNH but his powerful, colorful paintings have enriched our landscape."
New Hampshire Magazine:
"He has created a series of 12 acrylic paintings done in his signature style - semi-abstract faceless figures rendered in flat, bold colors - that portray blacks and whites harmoniously living, working and playing together, side by side, even touching, something that was forbidden in Haynes' childhood world."
NEACAC Ideal Award - NH Association of College Admission Counseling

Citizen of the Year - Martin Luther King, Jr.

President's Excellence through Diversity and Social Justice Award - University of New Hampshire

Renaissance Man - NH Magazine-Citation from State of NH Governor Craig R. Benson
Vision of Race Unity Award - Baha'i

Individual Artist Fellowship - New Hampshire State Council on the Arts and The National Endowment for the Arts

Outstanding Achievement Award - CBS Educational and Professional Publishing
His work can be found at the Currier Museum of Art, the Avery Art Institute, Massachusetts General Hospital and Dana Farber Cancer Institute.
Grants / Fellowships / Publications
For The Child - Court Appointed Special Advocates of New Hampshire

It Should be Simple - Diversity Dialogue and Mural Collaboration with the Portsmouth Martin Luther King, Jr., Coalition and the Portsmouth High School

The Shape of Diversity - Community Mural Project, Saint Anselm College

The Great Migration - A mural collaboration with the Currier Museum Art Center

Looking In, Looking Out - Child Study and Development Center Mural, University of New Hampshire - Southern Poverty Law Center, Teaching Tolerance

UNH Parents Association Major Grant, University of New Hampshire

Currier Museum of Art, New Hampshire Individual Artist Fellowship, New Hampshire State Council on the Arts, State of NH, and The National Endowment for the Arts

The Lila Wallace-Reader's Digest Fund - Greater Piscataqua Community Foundation in conjunction with the Portsmouth Music Hall and Middle School

Richard Haynes, "Portsmouth Unabridged: New Poems for an Old City," Peter E. Randall Publisher

Richard Haynes, "Regalia, Native American Dance," Sundance Publishing Book Award: 1998 Read, America Collection
Board Memberships – Past and Present
U.S. Commission on Civil Rights

NH Advisory Committee, Portsmouth Black Heritage Trail

Currier Advisory Council, Currier Art Center Task Force, Ogunquit Museum of American Art

Art-Speak City of Portsmouth, Seacoast African American Cultural Center, and McIntosh College Graphic Design and Photography

Ogunquit Museum of American Art